Hath God Said? — Study Guide
$3.75
PDF License (Download)
Hath God Said? — Study Guide
Save 40% off retail when you purchase 10 or more PDF licenses. Save 60% off retail when you purchase 25 or more PDF licenses.
Have you ever been troubled by doubts about the Bible? Have you ever had your faith in God's Word challenged or dismissed? The temptation in the Garden didn't begin with promises of wealth or power. It began with an attack on God's Word. Satan continues that challenge today, with devastating results inside and outside the church.
Hath God Said? meets the devil's challenge. Dr. R.C. Sproul proclaims and defends the world-transforming truth that God has spoken in His Word. He shows that communication requires an absolute standard of truth-and that Scripture is that standard. And Dr. Sproul demonstrates the failure of all attempts to make the Bible partly true and partly false. Hath God Said? will strengthen your faith in the integrity of the Bible-and your ability to proclaim and defend His holy character in your world.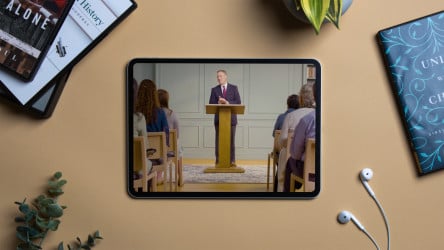 Order the Resource
Begin your study by ordering the teaching series. Available in multiple formats, these messages lay the foundation for the study guide and help you get the most out of your learning.
High Resolution images available for download
Publisher
Ligonier Ministries
Format
PDF License (Download)
Publication Date
05/16/2017
Topic
Publisher
Ligonier Ministries
Format
PDF License (Download)
Publication Date
05/16/2017
Topic