Learning to Love the Psalms — Study Guide
$15.00
$12.00
Paperback
Learning to Love the Psalms — Study Guide
Did you know that when you order from Ligonier, you receive 20% off the retail price for this resource? Save 30% off retail when you purchase 5 or more copies. Save 40% off retail when you purchase 10 or more copies.
The Book of Psalms is one of the greatest treasures the Lord has given to His people. Through these sacred poems, God has given us a rich songbook and a divinely inspired guide for our prayers. In this teaching series, Dr. W. Robert Godfrey provides an overview of the Psalms with the specific goal of learning to love them through a study of their themes, structure, and beauty.
See also the companion book, Learning to Love the Psalms.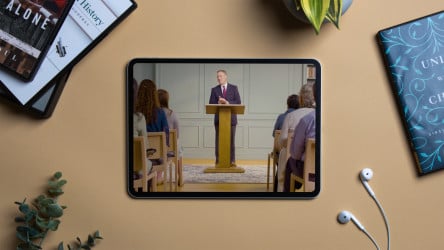 Order the Resource
Begin your study by ordering the teaching series. Available in multiple formats, these messages lay the foundation for the study guide and help you get the most out of your learning.
High Resolution images available for download
Watch the First Message Free
Publisher
Ligonier Ministries
Publication Date
07/06/2017
Topic
Publisher
Ligonier Ministries
Publication Date
07/06/2017
Topic