Why We Trust the Bible — Study Guide
$10.00
$8.00
Paperback
Why We Trust the Bible — Study Guide
Did you know that when you order from Ligonier, you receive 20% off the retail price for this resource? Save 30% off retail when you purchase 5 or more copies. Save 40% off retail when you purchase 10 or more copies.
God's revelation: where would we be without it? In this series, Dr. Stephen Nichols explains that we would be lost if not for God's Word, trapped in the darkness of sin forever. Rather than forsake us, God sent His Son, Jesus, revealing and recording His redemptive purposes in an inspired, inerrant, and authoritative source: the Bible. Sufficient for all of life, a crucial question arises: will we accept its authority?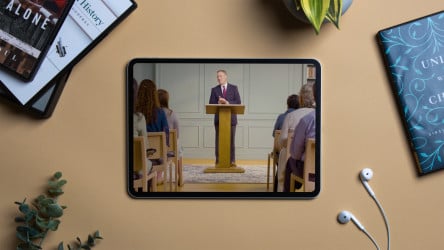 Order the Resource
Begin your study by ordering the teaching series. Available in multiple formats, these messages lay the foundation for the study guide and help you get the most out of your learning.
High Resolution images available for download
Publisher
Ligonier Ministries
Publication Date
10/24/2017
Topic
Publisher
Ligonier Ministries
Publication Date
10/24/2017
Topic